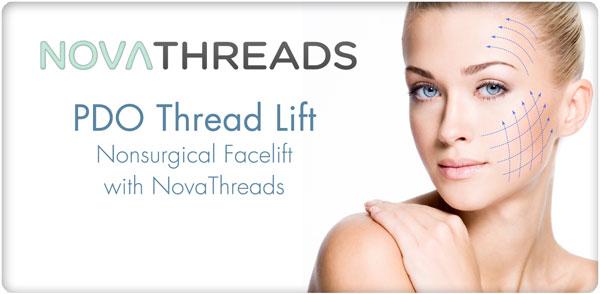 Prep Your Skin for Fall with NovaThreads
With fall finally here and all the many holiday celebrations not far off, you might want to think about ways to freshen your appearance with a more youthful look for the coming season. One way to achieve this is through the new non-surgical technique using NovaThreads. Your board-certified dermatologists in Jupiter, Florida, at Genesis Dermatology, often recommend this procedure for our clients who are seeking the advantages of a facelift without the extensive surgery and accompanying downtime it requires.
What are NovaThreads?
NovaThreads are a type of surgical suture composed of the same material (polydioxanone, or PDO) that is used in open-heart surgery. Thus, it is completely safe to use in the body.
How does it work?
As with many dermatological procedures, the theory behind the introduction of NovaThreads into the skin is to induce a gentle reaction that prompts the skin to repair itself, resulting in a renewed appearance. The medical term is "selective inflammatory response," or controlled healing. Because the PDO threads are so safe, they are left in place to provide a type of net that supports the skin while the body's own natural response of collagen production begins to form around the threads. The threads then dissolve in six to twelve months and are replaced by firmer, younger-looking skin.
What is involved?
The NovaThread procedure requires no cuts or incisions to the skin. It is an hour-long procedure that requires no downtime. One reason we like NovaThreads is that the procedure can be customized for each individual patient depending on the results they're seeking. The makers of NovaThreads offer many different sizes and types of threads that we will use to create different effects. The threads can be placed in a lattice, mesh, or hash-tag formation. They remain there until they are absorbed by the body, leaving no scar tissue behind.
We can use a topical anesthesia or offer a local, safe Nitrous Oxide inhalation anesthesia to help with any discomfort. We use ultra-thin needles to insert the PDO threads beneath the surface of the skin. There they attach to the tissue, and the needle is removed, leaving the threads behind. The threads then serve as a kind of scaffolding or support structure to lift the skin until the natural collagen production begins to replace them.
When will you see results?
You can expect to see results immediately after the procedure, with even more gradual improvement in the weeks to follow as the collagen begins to form around the threads. The effects of NovaThreads can last up to a year, depending on various individual factors.
Can NovaThreads be used with other procedures?
Because the NovaThread procedure is minimally invasive, gentle, and safe, it can be combined easily with other cosmetic procedures like fillers & Botox. We can also combine them with resurfacing lasers or chemical peels.
What is it used for?
This procedure is offered as an alternative to the traditional facelift. It is most often used for a sagging neck or drooping jowls but can be used anywhere that a newer, more contoured appearance is desired. This includes the cheeks, mouth, lips, and brow areas where subtle tightening or volumizing would produce a more youthful look. It can successfully soften and plump crow's feet, frown lines, and the fine lines around the mouth.
If you'd like to renew and rejuvenate your look for fall, be sure to contact us for information on this advanced new procedure.