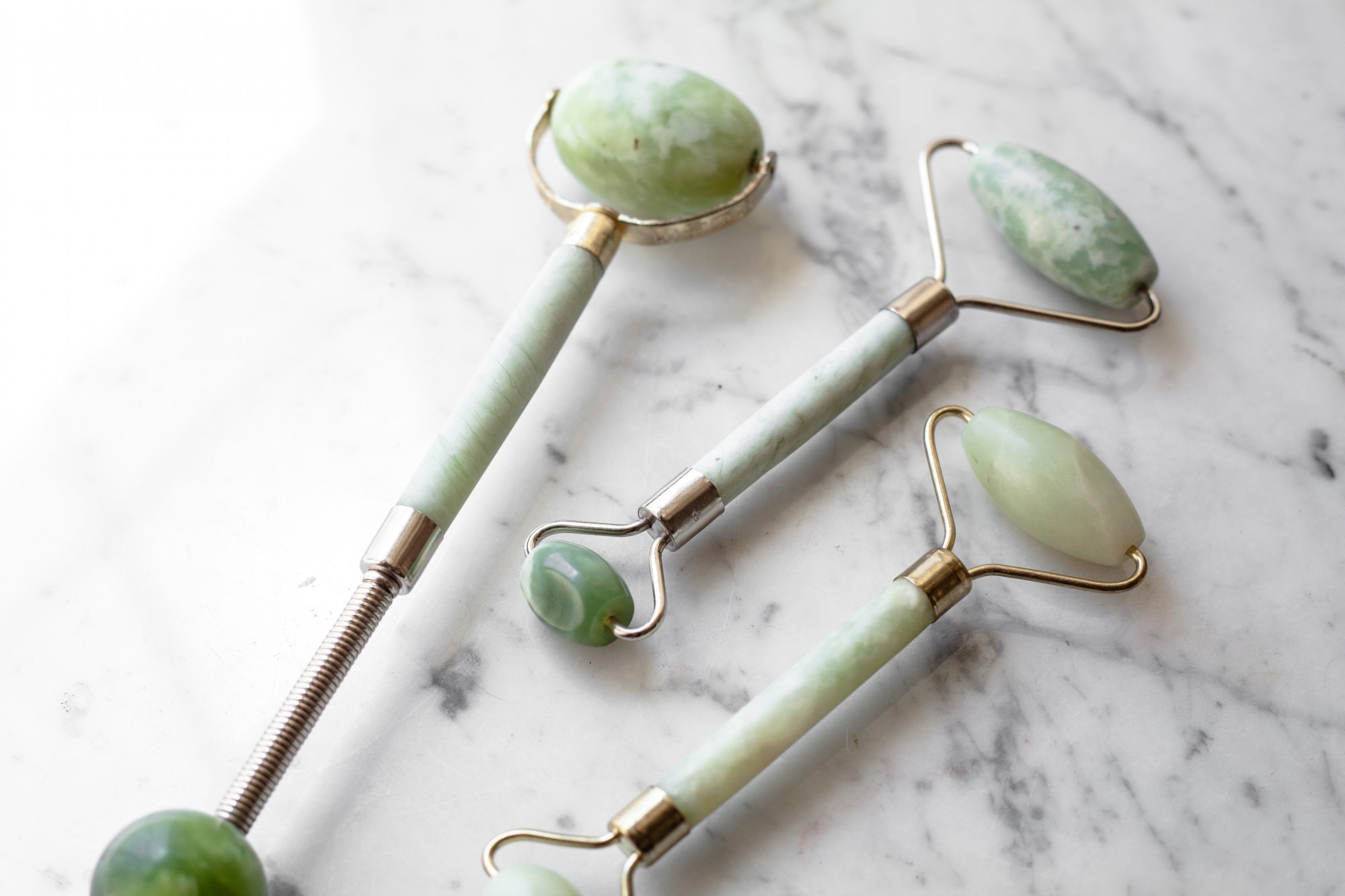 Do Jade Rollers Really Work?
Jade rollers seem to be all over our social media feeds these days. You may even receive one as a gift this holiday season. So our board-certified dermatologists in Jupiter thought we'd provide some facts on these popular beauty tools.
The popular jade facial rollers are said to:
sculpt and tone the skin
enhance healing
tighten pores
improve circulation
detoxify the skin
calm inflammation
reduce puffiness, especially under the eyes
minimize fine lines and wrinkles
boost collagen production
make the skin appear more youthful
allow beauty products to penetrate more deeply
In short, if you believe their claims, they can do everything but find you the perfect date for New Year's Eve.
But let's look a bit closer at how they work and what they can actually do.
The claims
Jade rollers (some are also made of rose quartz, amethyst, or tourmaline) are promoted as ancient beauty tools. Most have polished crystals at both ends of a wand, with the larger crystal designed for use on larger areas of the face (forehead, cheeks) and the smaller crystal designed for the under-eye area, the eyes themselves, and the nose.
Proponents of crystals associate a host of beneficial properties with each of them, so the addition of specific crystals to a facial roller is said to impart the benefits of each crystal to the user.
The rollers are used primarily on the face, although some are made for use on other parts of the body. The user applies a moisturizer of her choice to clean skin, then gently rolls the tool across her skin from the neck up, across one side of the face to the other, between five and ten times.
The idea is that the motion—along with the crystal—releases lymphatic fluid trapped beneath the skin, resulting in a fresher, tauter, more youthful appearance. And many users place the roller in the refrigerator for several hours to chill the tool, although real jade won't become warm from contact with the skin.
The facts
As with so many too-good-to-be-true products, we have not seen clinical studies documenting the claims listed above. On the other hand, any facial massage will have positive—if temporary—results visible on the skin.
Massage, whether with the fingers or with a tool, will help improve blood flow and lymphatic drainage, reducing puffiness, and relaxing tight muscles. The cooling effect of the stone constricts blood vessels, which in turn reduces inflammation and redness. This same effect, however, can be achieved by more conventional cooling methods, including a bag of frozen peas, ice packs, cucumber slices, or even the back of a cold spoon.
Thus the face looks refreshed and healthier, but as we said, the effect is temporary. As for stimulating collagen production to reduce wrinkles, simply rolling a cylinder across the skin will not accomplish that.
In addition, unless the roller is disinfected before use, it could spread bacteria across the skin, aggravating such conditions as acne, eczema, or psoriasis.
For more lasting results
With proper precautions, you can certainly receive a brief boost to skin appearance using a jade roller. But if you're looking for other methods to achieve the effects listed above, we offer a wide array of services that are scientifically proven to produce longer-lasting results.
These include:
Platelet-Rich Plasma (PRP) Therapy
This process uses platelets extracted from your own blood to promote collagen production, and thus helps to reduce fine lines and wrinkles, facial scarring, abdominal striae, and sun damage.
LimeLight is a non-invasive, light-based therapy that is often referred to as a "photofacial," because it treats the damage caused by exposure to the sun. It reduces redness, including fine blood vessels, freckles or age spots on all parts of the body.
Another non-invasive procedure that can lift and tighten brows, the neck, the area under the chin, as well as the chest and décolletage, Ultherapy uses ultrasound technology to stimulate collagen production in the skin's deep, inner layers.
SilkPeel is a safe, comfortable skin treatment that hydrates dry skin, minimizes the appearance of wrinkles and large pores, treats oily or acne-prone skin, and reduces sun spots or age spots. Unlike the typical discomfort of other types of skin peels, SilkPeel is painless and even relaxing, similar to a deep-tissue massage.
We also offer the latest in dermal fillers, Botox, the revolutionary Halo hybrid fractional laser system, and many other ways to help your skin achieve a refreshed, revitalized appearance.
And for all these procedures, we have also introduced the cutting-edge PRO-NOX machine to our practice, which delivers an ideal combination of 50 percent nitrous oxide—often called "laughing gas"—and 50 percent oxygen to gently soothe anxiety and relieve pain during our cosmetic procedures. It is so safe that the same combination of gases is used in birthing centers during labor and delivery. For the ultimate in comfort, ask us about PRO-NOX.