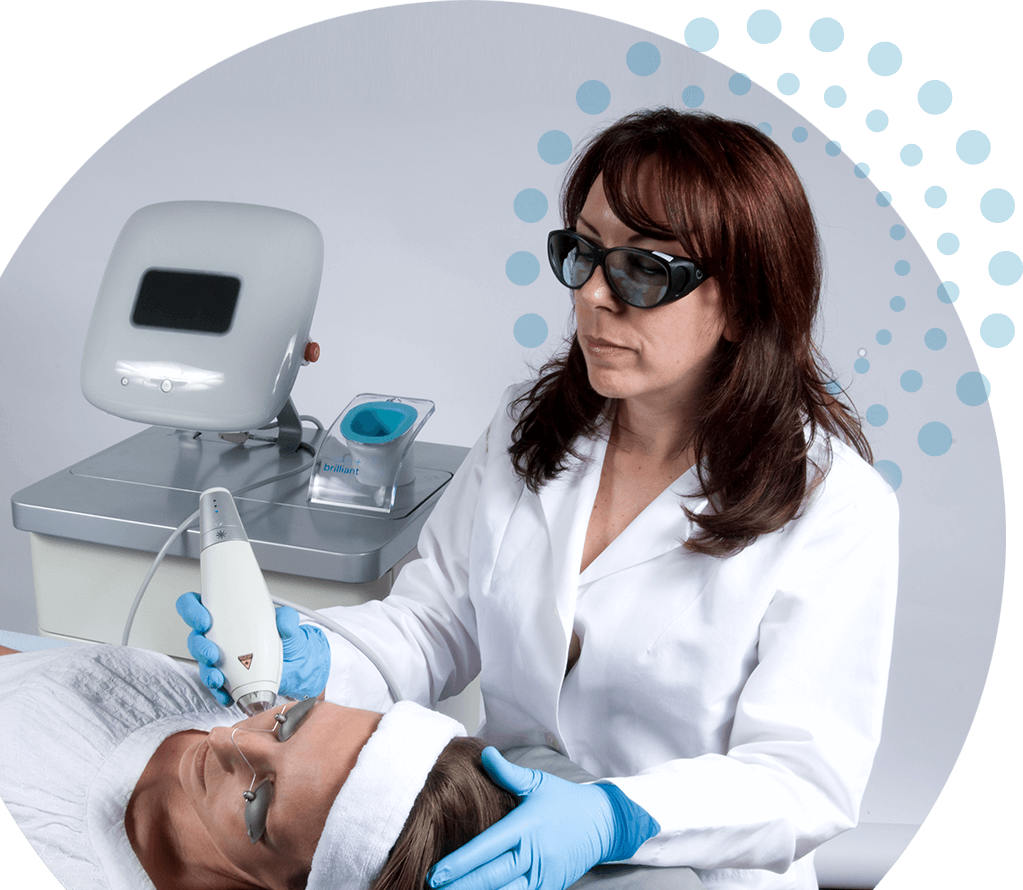 The Clear and Brilliant Path to Younger-Looking Skin
Our dermatologists are always on the lookout for new advances in cosmetic dermatology that can offer our patients the latest in skin care.
That's why we're pleased to announce we're introducing a new treatment that requires no surgery or injections, is a simple and comfortable way to help prevent the visible signs of aging, and addresses the overall effects that time and the environment can have on your skin.
Clear and Brilliant is a non-invasive laser treatment approved by the Food and Drug Administration (FDA) to treat fine lines, shrink the appearance of pores, improve skin tone and texture, and reduce hyperpigmentation such as acne marks and dark spots. It can be used on the face, neck, and chest.
The result is skin that looks younger and fresher, with a healthy, radiant glow.
How does it work?
Clear and Brilliant uses fractional laser technology to achieve its effects without surgery or injections. It's a next-generation Fraxel-type treatment that, unlike its predecessor, can be used on any skin type or tone, with minimal discomfort, and little to no downtime. One particular advantage of this treatment is that it won't make the skin sun-sensitive, so it can be performed at any time of the year.
Clear and Brilliant involves laser energy that is broken up into tiny beams, allowing precise targeting of the area to be treated while leaving the surrounding skin intact.
It works by creating hundreds of thousands of microscopic treatment zones in the upper layers of the skin. This triggers your skin's natural healing process, boosting the supportive proteins collagen and elastin production, and replacing the damaged skin with healthy tissue.
What to expect
We will begin with a consultation to make sure Clear and Brilliant is right for you. Because it's so gentle, it's recommended for those who are looking to minimize the early signs of aging and to maintain their youthful appearance, rather than those with more significant skin damage or signs of aging. We have many other more appropriate and effective treatments for those types of issues, which we'll be happy to discuss with you.
A typical session requires about 30 minutes to complete. Before beginning, we may apply a topical numbing cream to ensure additional comfort during the procedure.
During treatment, we will guide the Clear and Brilliant handpiece across the target area and actively treat your skin for approximately 15 to 20 minutes. While the laser may feel warm and tingly (remember, it's stimulating your skin), most patients report mild to minimal discomfort during the procedure.
And remember, if you wish you can take advantage of our revolutionary PRO-NOX nitrous oxide delivery system to help keep you as comfortable as possible during treatment. The safest nitrous oxide mixer available, it not only provides pain relief but also helps lessen stress for our patients who may feel some anxiety before or during a procedure.
Following treatment, we recommend you avoid strenuous exercise and apply cool compresses to help keep your skin cool as it regenerates. We also recommend you also stay out of the sun and wear a 50 SPF sunscreen to minimize the chance of hyperpigmentation following the procedure.
When will you see results?
Within a week or two following your treatment, your skin will gradually begin to feel softer and look brighter. Results can last for months depending on your age, skin condition, and how well you protect your skin after treatment. We'll help you select the best skincare routine to ensure optimal results.
While you'll notice an immediate improvement after just one treatment, many patients opt to continue with regular treatments as part of their overall skincare regimen. The best results occur after completing a series of four to six treatments about a month apart.
Clear and Brilliant can help delay and prevent future signs of aging in our younger patients, and help reduce signs of sun exposure and adverse environmental conditions. If you want to refresh your skin, Clear and Brilliant is one of the most gentle skin rejuvenation treatments available that can offer a way to keep your skin looking its healthy, youthful best.
At Genesis Dermatology we have one goal: providing the results you desire with the least amount of downtime in the most comfortable manner possible. Talk to us today to see if the revolutionary Clear and Brilliant laser treatment is right for you. Also, be sure to ask about our special introductory pricing.