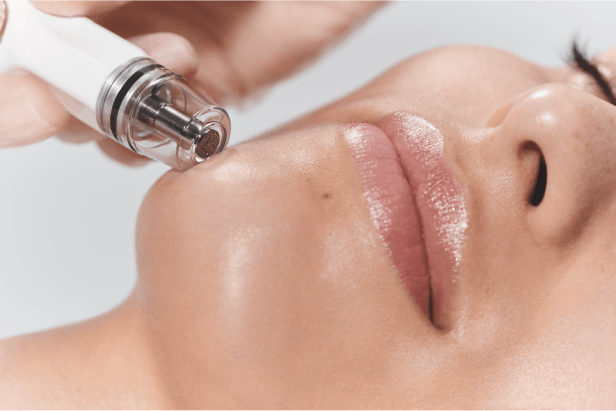 Try DiamondGlow for Brighter Skin Instantly
Our dermatologists in Jupiter are pleased to announce that we've added an exciting new facial treatment to our extensive line of cosmetic treatments to help bring out your skin's natural beauty.
DiamondGlow is a non-invasive skin resurfacing and rejuvenating treatment created by the trusted SkinMedica/Allergan Aesthetics firm.
The advantage of this treatment is that it can be targeted for any skin type or texture, and customized for the specific result you're seeking.
What DiamondGlow does
The DiamondGlow treatment is designed to exfoliate the surface layer of skin, to deeply cleanse skin and extract impurities from pores, and to nourish the skin with targeted serums that penetrate deeply into the skin's layers.
As a result, your skin feels firmer, plumper, and smoother after just one treatment. Your skin tone appears more even and the appearance of hyperpigmentation is reduced, offering a more radiant, dewy, and youthful appearance.
With additional treatments, you'll begin to see dryness reduced, dark spots lightened, skin discoloration minimized, and fine lines diminished. The skin is rehydrated and repaired beneath the surface, transforming dull, tired skin, leaving a natural radiant glow.
In a DiamondGlow study, 100 percent of patients surveyed immediately after treatment agreed that:
I received a deep clean.
My skin feels firmer.
My skin looks more radiant.
In addition, 95 percent of patients agreed that:
DiamondGlow was an enjoyable treatment.
My skin feels plumper.
Within 72 hours following treatment, patients reported they continued to see improvements in fine lines, overall dryness, roughness, and radiance.
How DiamondGlow works
The DiamondGlow facial goes beyond traditional wet facial treatments that use chemical exfoliation to treat skin at the surface level.
DiamondGlow's patented recessed diamond-tipped device is a general dermabrasion device that gently removes the top layer of skin and delivers one of five topical cosmetic serums onto the skin.
Depending on your individual needs, you can choose from among these SkinMedica Pro-Infusion serum options:
Pore Clarifying, to draw out impurities to fight blemishes and blackheads
Skin Brightening, to target discoloration and increase radiance
Ultra Hydrating, to infuse dry skin with hyaluronic acid to deeply rehydrate skin
Vitamin C, to boost collagen production and even out skin tone. Vitamin C is also an antioxidant that can reduce cellular damage
SkinMedica TNS Advanced+, with the firm's patented Tissue Nutrient Solution, a blend of proteins, antioxidants, and amino acids, to reduce wrinkles, fine lines, and sagging skin while enhancing tone and texture
The treatment
Because the DiamondGlow treatment is customized to each patient, it can be used with nearly all skin types and textures. The company suggests that it might not be right for those with compromised skin, such as active acne flares, rosacea, sensitive skin, or are susceptible to cold sores, or for those who are pregnant or lactating. We can help you decide whether a DiamondGlow treatment is right for you.
The relaxing, painless treatment itself takes about 30 minutes, with no downtime afterward. The DiamondGlow device has six different diamond tips attached to a motorized device. We will select the one that's right for your skin type.
DiamondGlow's patented 3X1 technology allows us to simultaneously buff away old, dead skin cells, while extracting oil and dirt from pores, and at the same time infuse the newly opened pores with the serum you selected.
"The infusion technology optimizes the penetration of treatment serums by infusing them into the skin at the exact moment of exfoliation and extraction, when the skin is the most permeable and can most effectively absorb product," New York City celebrity aesthetician Cynthia Rivas, told New Beauty magazine.
"Together, these technologies visibly improve the look, feel, and clarity of skin," she said. And because it can even be performed on your lunch break, she calls it "a true glow-and-go treatment."
FAQs
Q. How many treatments are required?
A. You'll notice results immediately from a single treatment. As your skin's supportive collagen regenerates, your skin tone will continue to improve in the days and weeks following treatment. We recommend one to two treatments per month to see continued results. We can help you determine your individual treatment plan.
Q. Is it safe?
A. As we mentioned, some people will not be good candidates for a DiamondGlow treatment depending on their skin condition. For others, however, DiamondGlow is considered to be safe. Some may experience temporary redness or slight swelling after the procedure. Rarely, more serious side effects including allergic reactions may occur.
Q. Can I get a DiamondGlow facial along with other treatments?
A. The DiamondGlow treatment can be performed along with other skin rejuvenation procedures such as laser skin resurfacing. If you're planning to receive injectable treatments, we recommend you receive the DiamondGlow treatment prior to any filler-type treatment.
Contact us today to learn how DiamondGlow can instantly reveal your skin's radiance.
SUMMER SPECIAL