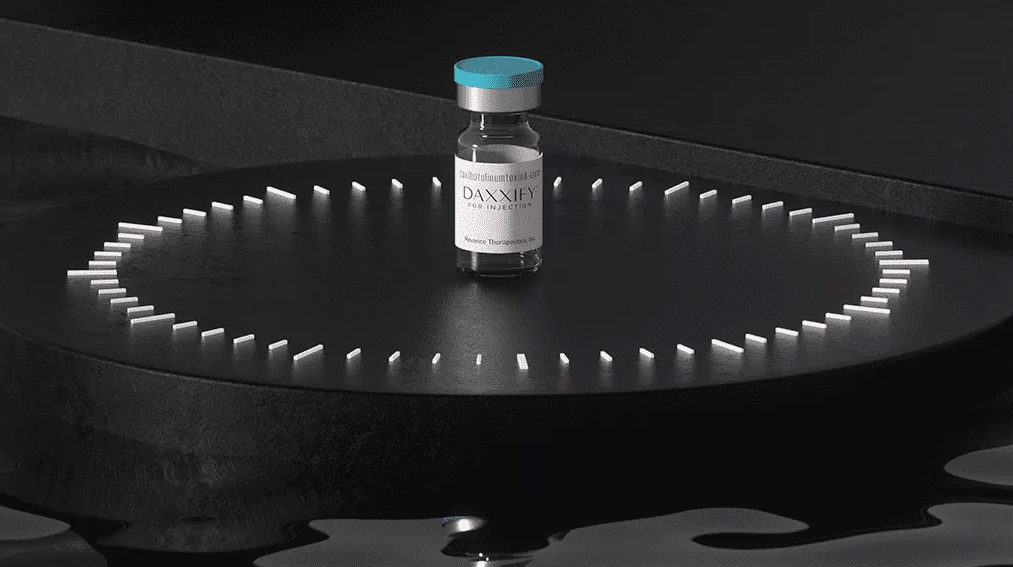 Daxxify: The Next Big Thing to Banish Frown Lines!
Our dermatologists in Jupiter are so delighted to be able to offer you a revolutionary new next-generation neuromodulator known as Daxxify. As we are currently one of the few exclusive providers of Daxxify in the U.S., we want to introduce you to this exciting new addition to our cosmetic line.
The Daxxify difference
Following clinical trials on more than 2,700 patients who received a total of 4,200 treatments, the U.S. Food and Drug Administration (FDA) has approved Daxxify for smoothing frown lines, similar to other neuromodulators, including Botox, Dysport, Xeomin, and Juvéderm.
Unlike these older injectables, however, Daxxify may last up to twice as long due to its innovative use of a peptide that allows botulinum toxin, the protein responsible for helping smooth moderate to severe frown lines, to bind more effectively to nerve cell membranes.
As Philadelphia plastic surgeon Dr. Jason Bloom explained to RealSelf, coupling the peptide with the toxin molecule gives it a positive charge, drawing it to the negatively charged cell membrane.
And here's what else sets Daxxify apart from previous neuromodulators: Rather than use human serum albumin (HSA), a protein found in human blood, to stabilize the treatment, Daxxify uses a novel peptide that does not contain any human or animal byproducts.
"Each botulinum toxin differs in formulation—in particular, the components used to 'hold' the toxin peptides as a stable active complex for absorption," Nanuet, New York dermatologist Dr. Heidi Waldorf, explained to RealSelf.
"Daxxify contains no human serum albumin, which is used by other companies to keep the botulinum toxin complexes from sticking onto the vial surface," she said. "Although HSA poses no additional risk to patients, some may prefer a product without human components."
Vegans may also appreciate the fact that Daxxify is free of animal-based additives.
"Peptides have been successfully introduced as topical, oral, and injectable products and now we have the first and only peptide-formulated neuromodulator," Dr. Jody Comstock, a board-certified dermatologist at Skin Spectrum Dermatology Tucson, told Allure.
"The extensive studies reveal a safe, longer-lasting neuromodulator that naturally slows down the accelerating aging that moderate and severe muscle movement creates," she added.
It's about time
But the truly breakthrough difference with Daxxify (also known as "Daxi") is the length of time it typically lasts: six to as long as nine months, in some cases. The wrinkle-smoothing effects from Botox and its competitors are generally reported to last around three to as long as five months.
"Daxxify will definitely change the neuromodulator market because of its increased longevity," Dr. Joshua Zeichner, an associate professor and director of cosmetic and clinical research in the department of dermatology at Mount Sinai Hospital in New York City, told Everyday Health.
As with other botulinum injections, Daxxify works by blocking the neurotransmitter nerves that cause muscles to contract, without damaging the muscles themselves. The muscles then remain relaxed, thereby diminishing the appearance of frown lines.
Daxxify, however, is unique in its longevity among neuromodulators.
"The studies showed that a two-point or greater improvement in glabellar lines [the so-called "forehead 11" furrows between the eyebrows]—from severe to mild or moderate to none on the validated scaled—was maintained for at least 24 weeks after a single treatment," Dr. Hema Sundaram, a Fairfax, Virginia, dermatologist, told RealSelf.
Daxxify's parent company Revance told Allure that Daxxify "can deliver year-long results with as few as two treatments, addressing an unmet need in aesthetics for both physicians and patients by providing long duration. Daxxify provides patients with the luxury of time allowing them to maximize their time without compromising their results."
About the treatment
Daxxify is FDA-approved for use on forehead wrinkles only, but many observers expect that, like many drugs, it will also be used "off label" for other cosmetic enhancement such as on forehead furrows, crow's feet, and so on.
As with other neuromodulator injectibles, Daxxify results in no downtime or recovery afterward. You may see results within three days, but the full effect typically takes one to two weeks to appear.
Side effects appear minimal, too, according to Everyday Health, which reports that researchers didn't observe any serious treatment-related side effects. The most common side effects reported by its maker Revance included headache, experienced by six percent of users, followed by drooping eyelids, seen in two percent of users, and facial asymmetry, experienced in one percent of users.
Although most patients describe Daxxify treatments as painless, if you're concerned you might feel any discomfort from the procedure, our practice features the revolutionary PRO-NOX nitrous oxide delivery system to help keep you as comfortable as possible during treatment.
Nitrous oxide has been used for decades in medical settings to deliver safe, effective anxiety and pain control without the lingering after-effects of oral or injected drugs, and with no possibility of addiction. When the gas is inhaled, the patient becomes relaxed and peaceful, and any discomfort is minimized or eliminated entirely. So contact us today to see if Daxxify is right for you.